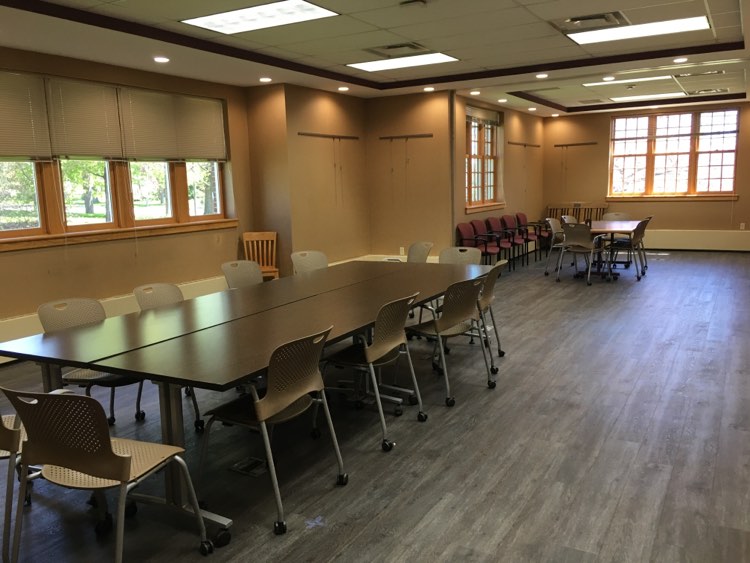 The Littlejohn Community Meeting Room is available to those primarily serving the needs of the community for meetings and events. The meeting room can be divided into 2 smaller rooms. Groups may also use the adjoining kitchen.
If you are interested in scheduling the room, just ask at the Circulation Desk for an application or click here to print one. Please call the circulation desk at 315-568-8265 ext. 2 to schedule use of the room.
Meeting Room Policies
The Josephine M. Littlejohn and Small Conference meeting rooms in the Seneca Falls Library are available to those primarily serving the needs of the community.
No meetings will be allowed if there is any commercial intent or solicitation for profit or sales from the group, the individual or organization. NO FEES FOR ATTENDANCE OR SUPPLIES ARE ALLOWED.
At the discretion of the Board of Trustees or the Library Director, the following are allowed at programs sponsored by the Library itself:
Fund Raising to benefit the Library and/or sponsored by the Library or the Friends of the Library.
The sale of books, media and other items by authors or artists as part of a Library program.
Rooms are available on a first come, first served basis.  Library events have priority, and the library reserves the right to cancel reservations with two weeks notice.
Rooms are available during regular library hours.
Groups wishing to reserve the Josephine M. Littlejohn or Small Conference room must complete an application and submit it to the Library Director for approval.
The kitchen can be used to support a meeting or event, but it is not to be used as a program space or to prepare food for the event or for sale.  If the kitchen is used, please be sure it is clean when your event is over.
Groups are responsible for ensuring the room is tidy prior to their departure.
Public meeting room use does not constitute library endorsement of the beliefs or ideas expressed by organizations or individuals using the space. Meetings should not be publicized in a manner that suggests library sponsorship or affiliation.
The meeting rooms may not be used for the following:
Partisan political events, such as political rallies and demonstrations, fundraisers, and promotion or endorsement of political candidates.
Religious or philosophical/motivational groups that wish to hold services, ceremonies, prayers, or events to recruit new members.
Private social functions, such as showers, birthday parties, wedding receptions, etc.
Events with the primary goal of selling a service or product to attendees.
If you have any questions, please call the Seneca Falls Library at (315) 568-8265.  We will notify you if your application has been approved within one week of receipt.  Please make reservations at least three weeks in advance.